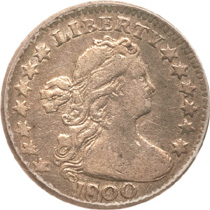 Mintages for Draped Bust Half Dimes were generally very low, which can make the acquisition of even a single example difficult or at least costly. Circulated examples with problems such as damage and cleaning can usually be found, although more intensive searching is required to find problem-free pieces. Uncirculated examples of any date in the series are rarities.
Generally speaking, the small eagle reverse coins issued in 1796 and 1797 are more difficult to find than the heraldic eagle reverse coins issued from 1800 to 1805. The total mintage for the first subtype is less than half of that for the second subtype, which also includes a smaller number of dates.
For any particular date of the series, the production level never exceeded the 50,000 level. The smallest mintage occurred with the 1802 Half Dime with a mere 3,060 pieces struck. This coin was once viewed as the "king of half dimes" until a scarcer issue was discovered in a later series.
Draped Bust Half Dime Mintages
| Small Eagle Reverse | Mintage |
| --- | --- |
| 1796 | 10,230 |
| 1797 | 44,527 |
| Heraldic Eagle Reverse | Mintage |
| 1800 | 40,000 |
| 1801 | 27,760 |
| 1802 | 3,060 |
| 1803 | 37,850 |
| 1805 | 15,600 |